What's New
Quality Training in Cebu School


Living Learning Culture and Education organized a two-week teacher training course for Cebu Cherish School on July 2-13, 2012.

An Inspiring Chinese Teachers' Workshop


A partner of Living and Learning Culture and Education (LLCE)—Yew Chung International Schools (YCIS)—has successfully concluded the Chinese Teachers' Workshop 2011 in Chongqing.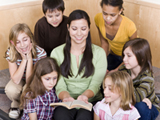 Welcome to LLCE!
LLCE is committed to enhancing awareness, understanding and appreciation of the importance of the Chinese language to make it align with living, learning, culture and education.